just some of my hotfox who have rocked!
Belinda's tips, treats and tricks
To keep you fully charged and motivated along way!
WHAT kate HAD TO SAY:
"PT WITH BELINDA FIXES ALL BAD DAYS AND MAKES THEM AWESOME"
Kate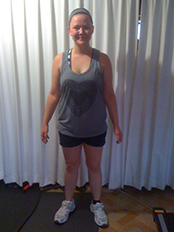 WHAT lerissa HAD TO SAY:
'Thanks to Belinda and Hotfox Fitness I have lost 14 kgs and achieve my goal. I have never experienced so much support and motivation. I never used to like exercise but Belinda makes training so much fun! Thanks Bel x
Lerissa Larsen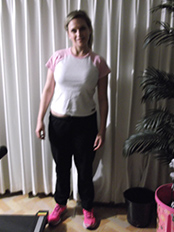 WHAT sandra HAD TO SAY:
NOTHING LIKE FEELING MUSCLES IN PLACES YOU NEVER KNEW YOU HAD THEM AND FEELING SO MUCH FITTER AND BEING ABLE TO FIT INTO YOUR CLOTHES. THANKS TO BELINDA ALL THIS IS HAPPENING TO ME AND I CAN'T THANK OR RECOMMEND HER ENOUGH!
Sandra
WHAT katie HAD TO SAY:
I KNEW I NEEDED TO GET FIT AND HEALTHY WHEN I REALISED MY MEALS CONSISTED OF RED BULLS, CHOCOLATE MILK AND ANYTHING PROCESSED. SINCE GOING TO BELINDA MY WHOLE LIFESTYLE HAS TRANSFORMED, FATTY AND SUGARY TREATS ARE A SOMETIMES FOOD. BELINDA GAVE ME THE DRIVE AND CONFIDENCE I NEEDED AND NOW I'AM 11KGS LIGHTER WHICH IS ACTUALLY MORE WEIGHTLOSS THAN I WAS AIMING FOR. THANKS BELINDA BECAUSE OF YOU I HAVE SO MUCH MORE ENERGY. MY TRANSFORMATION HAS EVEN INSPIRED MY COLLEAGUES'
Katie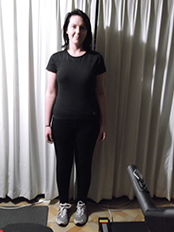 WHAT morgan HAD TO SAY:
I started training with Belinda after looking everywhere for a female trainer. Not only did she make me feel comfortable but welcome she pushed me to the limit, then even further all while having a great chat and enjoying myself! She encouraged me to do as much as I could to get to the goals I wanted. I would and have recommended her to everyone. MORGAN
Morgan
WHAT jessica HAD TO SAY:
'I cannot speak highly enough of Belinda Evans.
She is an amazing knowledgeable and inspiring personal trainer, as well as a genuinely friendly and caring individual. When I first started with Belinda, I had developed very unhealthy eating habits from working in an office environment. I was addicted to soft drinks, coffee and chocolate and actually avoided physical activity because I felt sluggish, slow and ashamed. O had used all types of ridiculous crash diets, including celebrity shakes, snap detoxs and restrictive eating plans. These tools gave me quick, short term results but my body eventually returned to its original state, as I had not genuinely increased my fitness or health. I was in need of a complete physical and spiritual makeover and I knew I needed professional attention to lose weight, increase muscle tone, and revitalize my energy levels. When I walked in Belinda's gym for the first time complete with pink walls and zebra mats I knew I was in the right place. Belinda gives her clients tools for lasting success, including HOTFOX food diaries, menu suggestions, exercise plans and personalised follow up texts. What Belinda showed me is that by working slowing and steadily, eating nutritious and training well each day, long term goals can be achieved and maintained Belinda's work out sessions were always fun full of variety I never got bored working out with Belinda, and actually valued the caring conversations she initiated about other aspects of my life, including work, friends and family Belinda went above and beyond her role of a personal trainer and became a teacher, friend and confidante. Belinda is a very knowledgeable trainer with an eye for correct technique, which helps her clients maximise their work-out and avoid injury. Belinda helped me kick the coffee, soft drink, chocolate habits and made me refocus my attention to healthy eating which truly nourished my body. After many kettle bell swings, high incline runs, and leaping jump squats, I managed to loose 2cm from my bust, 1.5cm from my waistand increased my overall muscle tone, I even have real biceps now. Whilst I couldn't be happier with the physical results I have gained beyond that, I am thrilled by spiritual and emotional transformation I now use training to calm my emotions ( if I'm having a bad day I'll take it out on a punching bag) I am no longer feeling sluggish, slow and ashamed. Training with Belinda has helped me recognise some new priorities in my life, and whilst I pursuit my dreams I truly cannot thank Belinda enough for her genuine care, compassion, dedication and hard work! I would recommend Belinda's training to lady out there no matter what your stage of life or fitness level because she will help you achieve your goals whatever they may be.
YOU ROCK BEL, STAY FOXY ALWAYS XX JESS
Jessica